Amadeus Revenge
was made in 1988 by Systems Editoriale s.r.l. with
SEUCK
, and is a Musical Shooter game. It was only released for the Commodore 64.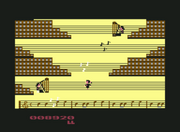 The player must control the character, and guide them through the level without being killed. They have to destroy the Musical Notes (Which alter the game score if not) created by Rival Musicians, and find complete their own music.
Wolfgang Amadeus Mozart, decides to create a Piece of Music named Concerto in 25. However, to finish it, he needs to travel across sheet music. Along the way, his work is disturbed by rival musicians, but eventually, Mozart finishes his song.
Community content is available under
CC-BY-SA
unless otherwise noted.