Call of Duty: United Offensive
was an expansion pack released for
Call of Duty
. The expansion adds new campaigns and weapons.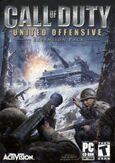 The game is a First Person Shooter set in World War II. The aim to to achieve the Objectives in order to reach the end of a level to complete it. The player has the ability to pick up dropped weapons, a feature that would stay in the rest of the series.
American Campaign
Edit
During the Bastogne Campaign, Corporal Scott Riley defends Bois Jacques, and captures and secures the town of Foy. Riley later captures Noville.
British Campaign
Edit
Sergeant James Doyle, a pilot for the Royal Air Force, gets shot down over the Netherlands. The Dutch Resistance and Major Ingrams rescue Doyle. Doyle becomes an operative for the Special Air Service, and is sent to Sicily to destroy German Weaponary.
Soviet Campaign
Edit
A Soviet soldier, Private Yuri Petrenko, is fighting in the Battle of Kursk to defend the Soviet Trenches. During the battle, he secures Ponyri, Prok and Kharkov.
Community content is available under
CC-BY-SA
unless otherwise noted.