Call of Duty 2
was released in 2005, and was developed by Infinity Ward. It was released for PC's, Xbox 360 and Mobile Phones. The game was a sequel to
Call of Duty
.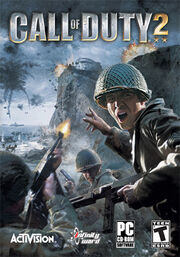 The game is a First Person Shooter set in World War II. The aim to to achieve the Objectives in order to reach the end of a level to complete it. The player has the ability to pick up dropped weapons.
Soviet Campaign
Edit
.Private Vasili Koslov defends Moscow, the capital of the Soviet Union from the Wehrmacht. Following this, he is sent to participate in the Battle of Stalingrad. During this battle, he is given tasks such as capturing German Strongholds, and repairing and retaking vital structures. Later on, he assists the Soviets in taking back the Stalingrad City Hall, ending the battle.
British Campaign
Edit
In North Africa, Sergeant John Davis, and his unit led by Captain Price, perform an attack on German Afrika Korps. They reach a town, and defend it from Afrika Korps surrounding them, and successfully defend it. Davis is send to the Second Battle of El Alamein, and fights through trenches to defeat the German Offensive. An assault on El Dabaa ends the British Campaign in Egypt.
A British Tank Commander named David Welsh is fighting enemies in Tunisia, and is trapped in a house until they escape with the help of another unit. After capturing Toujane and Matmata, Welsh is sent to Caen in France to capture it from Wehrmacht.
American Campaign
Edit
During the Allied Offensive during D-Day, Coporal Bill Taylor captures an Artillery Station at Pointe Du Hoc, and prevents the Wehrmacht retaking it. Taylor is later tasked with retaking a French Town and Hill 400 from the Germans, and is successful with preventing German Counterattacks. Later at the Rhine River bordering Germany, Taylor covers comrades from Germans, and destroys Tanks while capturing a town.
Community content is available under
CC-BY-SA
unless otherwise noted.