Chex Quest 2: Flemoids Take Chextropolis
was released in 1997, and developed by Digital Café. It was a downloadable sequel to
Chex Quest
.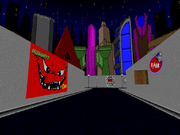 Background
Edit
The game was released on Digital Café's website to download. It required the original game to play, as it mainly only contained more levels.
The game is a First-Person Shooter, and the aim is to Zorch (Shoot at) the enemies and reach the end of the level. It is mostly the same as the original game, except for new maps and enemies.
The Chex Warrior returned home to Chex City, but finds that the Flemoids have invaded the planet. He battles through many places until he finds the Flemoid leader, the Flemoidus Maximus.
Community content is available under
CC-BY-SA
unless otherwise noted.