Doom 64
was released in 1997, and was developed by Midway Games. It was released exclusively for the Nintendo 64, where it took advantage of its 3D Qualities.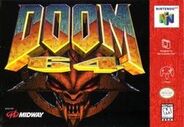 The game is a First-Person Shooter, with the aim being to clear the levels of Demon's and reach the end of the level. There are traps in the levels you must avoid, as well as keys required to unlock doors.
The Marine who survived the Depths of Doom returned to Earth. In a last ditch effort to kill the remaining Demons, radioactive weapons were used on Deimos and Phobos. Something, however, survived and began russurecting a Horde of Demons to fight the residents of Earth. A Strike Force of Marines were sent to kill them, but failed with only one survivor, who is then tasked with killing all Demons.
Community content is available under
CC-BY-SA
unless otherwise noted.