FIFA International Soccer
was released in 1993, and was developed by Extended Play Productions. It was the start of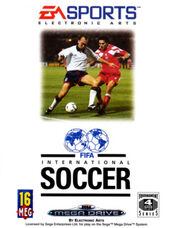 the now popular FIFA Videogame Series.
Background
Edit
Electronic Arts decided to release a sports game that would appeal to European Markets, and the research banner concluded that Association Football would work, leading to Extended Play Productions (The Studio that would later be renamed EA Canada) making it.
The game is an Association Football simulator, and is viewed at an isometric angle. The aim is to score as many goals as possible before the match ends. The game is based on International Matches, with most of the teams being National ones.
List of Teams
Edit
| Flag | Name |
| --- | --- |
| | Algeria |
| | Argentina |
| | Australia |
| | Austria |
| | Belgium |
| | Bolivia |
| | Brazil |
| | Bulgaria |
| | Cameroon |
| | Canada |
| | Chile |
| | China |
| | Colombia |
| | Czech Republic |
| | Denmark |
| | England |
| | France |
| | Germany |
| | Hong Kong |
| | Hungary |
| | Iraq |
| | Israel |
| | Italy |
| | Ivory Coast |
| | Japan |
| | Luxembourg |
| | Mexico |
| | Morocco |
| | Netherlands |
| | New Zealand |
| | Nigeria |
| | Northern Ireland |
| | Norway |
| | Poland |
| | Portugal |
| | Qatar |
| | Republic of Ireland |
| | Romania |
| | Russia |
| | Saudi Arabia |
| | Scotland |
| | South Korea |
| | Spain |
| | Sweden |
| | Switzerland |
| | Turkey |
| | Ukraine |
| | United States |
| | Uruguay |
| | Wales |
| | EA All Stars |