Fallout 1.5: Resurrection
was released in 2013 by four Czech fans of
Fallout
. The game is a Mod of
Fallout 2
.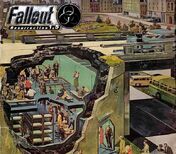 It is a Role-playing Game, and the player can freely move around until engaged in combat. In combat, they fight the hostile person/creature attacking them.
In what was once New Mexico, the player wakes up in a cave with amnesia, and finds a mysterious talisman. After walking a while, hostile ghouls who seem to know him, attempt to kill him, but to no avail. A dying ghoul named Thomas claims he was the players best friend, and that he is a member of the Cult of Renewal, led by the Saviour, before passing away. The cult has a machine that transforms Ghouls into Humans, but the Ghoul Humans later die of tissue decomposition. It is revealed that the player, as well as the saviour are Ghoul Humans, meaning they will die soon. The player then has the option to rejoin the cult, or to destroy it.
If they choose to rejoin it, they and the cult attack and destroy the city of Alburquerque, but all die in the battle. The cult then dominate the area.
If they choose to destroy it, they attack and destroy the base of Renewal. He commits suicide in the wasteland to avert a slow death of decomposition.
Community content is available under
CC-BY-SA
unless otherwise noted.