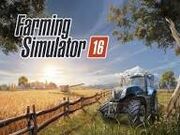 Farming Simulator 16 is a game released on August 5, 2015. It was created by GIANTS Software, the same people who create Farming Simulator games.
New Additions
Edit
Forestry!
Better graphics!
Mini Map!
Auto-Drive!
Helpful hints and Typical Tips
Edit
If you have enough money to buy a new tractor, and it's the next level tractor, then don't sell your old one. That old tractor can help with making new fields or sowing a new crop.

Same with harvesters and forestry.
List of machines
Edit
Hiirlimann H488
STEYR 4115
SRME Fortis 190
CASE IiI Puma 160
Lamborghini Mach 230 VRT
NEW HOLLAND T8.320
JCB Fastrac 3810
CASE IiI Magnum 380
Transports
Edit
MAN TGS 18.440
KRAMPE SB 30/60: HUGE trailer that needs a helper to hook up to a tractor, but doesn't need anything when hooking to the MAN truck.
FLIEGL Low Loader
LIZARD Pickup Truck
Fliegl Dolly EA: The Dolly helps you put a tractor to the SB thing. That's all it does. Trust me.
Harvesters
Edit
SAMPO ROSEMLEW Comia C6
CASE IiI Axial Flow 7130
NEW HOLLAND CR 10.90
GRIMME Rootster 604
GRIMME SE 260
KRONE BiG X 1100
Previous installments
Edit
Following Installations
Edit
Community content is available under
CC-BY-SA
unless otherwise noted.