New York! New York! is an arcade game that pitted players defending the city of New York (which is evidenced by the onscreen rendition of the Statue of Liberty) over two stages of gameplay. It was developed by Sigma Ent. Inc. and distributed by D. Gottlieb & Co. in 1980.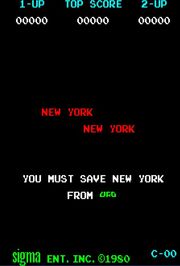 The first stage involves several alien ships swarming in various attack patterns while firing down at the player's laser base. During this stage, a special bonus target will also appear, resembling a fast-moving ferris wheel that takes several hits to be destroyed. It would encourage players to "come on! Come on!" and "hit me! Hit me!" via voice synthesis.
The second stage pits the player against one lone Leader Ship (which is comprised of the letters "UFO"), which flies around the screen shooting. If the player is able to destroy the Leader Ship then the game cycles back to the first stage.
Getting shot or rammed by any of the alien ships would cost the player a laser base and the game would end when all bases were destroyed.
Move ship–joystick (left/right)
Fire–button
The game was released in upright and cocktail models. It was also one of the earlier arcade games to have speech synthesis.
Community content is available under
CC-BY-SA
unless otherwise noted.