Super Mario Bros.: The Lost Levels
(Released in Japan as Super Mario Bros. 2 スーパーマリオブラザーズ 2 ) was the Japanese sequel to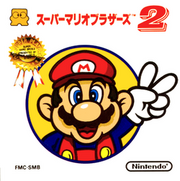 Super Mario Bros.
, and was released in 1986.
The game is a 2D Sidescrolling Platformer. Most of it is identicle to the previous game, but contains extra levels, and is a lot harder with Enemy A.I being changed and more being placed.
Bowser has once again kidnapped Princess Toadstool, so Mario once again goes to save her.
| Action | How to Perform |
| --- | --- |
| Jump | |
| Dash | |
| Walk Left | |
| Walk Right | |
| Duck | |