T
he ''''
Orange Box was released in 2007, and is a compilation of some of Valve Softwares best games.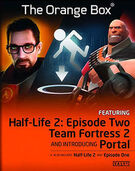 Included Games
Edit
Half-Life 2 is a First Person Shooter, and was originally released in 2004. The game is set in City 17, where the Player's Character, Gordan Freeman, must fight the Combine.
Half-Life 2: Episode One was the Sequel to Half-Life 2, this installment being released in 2006. It continues the story of its predecessor, and Gordan Freeman and Alyx Vance continue fighting against the Combine in the War-Torn City 17 and surrounding areas.
Half-Life 2: Episode Two is the newest installment to the Half-Life series, and was first released in this Compilation. It continues Episode One, but the story moves away from City 17 and is instead set in the Wilderness.
Portal was also newly released in the Compilation, and is a First-Person Shooter/Puzzle hybrid, where the player has to create portals with a Portal Gun in order to complete the tests of the device.
Team Fortress 2 also happened to be newly released in the compilation, and was the long awaited sequel to Team Fortress Classic. The player plays as either the BLU or the RED Faction, and fight each other with Mercenaries.
Community content is available under
CC-BY-SA
unless otherwise noted.