WCW vs. the World
(Released in Japan as
Virtual Pro-Wrestling
) was released in 1996 in Japan, and in 1997 elsewhere. It was developed by Asmik Ace Entertainment for the Sony PlayStation.m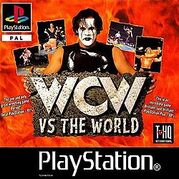 The Player must choose a Wrestler, and must defeat their opponent. Their are various moves the player can use to defeat their opponent.
As well as having wrestlers from WCW, there are also 'foreign' wrestlers loosely based on real life Japanese wrestlers.
Character Roster
Edit
Chris Benoit
Dean Malenko
Eddy Guerrero
The Giant
Jeff Jarrett
Hulk Hogan
Lex Luger
Ric Flair
Rick Steiner
Scott Steiner
Steven Regal
Sting
Ultimo Dragon

Billy Gaijin
Black Belt
Black Ninja
Blackheart
Bolt Jamison
Chono
The Count
Dakota
David Harley
Dojo
El Borador
Fujigami
Grizz Lee
Habanero
Jaguar
Kaiji
Kapuna
Kim Chee
Konaka
Le Masquerade
Mad Oahu
Major Tom
Moma
Mongol
Mongrel
Mukluk
Overdose
Puchteca
Saladin
Sam Song
Samoa
Shanghai
Shaolin
Sherlock
Siberia
Steel Talon
Thunder Dome
The Turk
The Unknown
Uraki
Wu Fang
Yamagiwa
Community content is available under
CC-BY-SA
unless otherwise noted.